How to Wish Happy Birthday (Best Ways To Make Them Feel Special)
Birthdays are always special because they provide us with the right opportunity to celebrate with people we love and care about. It is the time to show our appreciation and make our loved ones feel special on this big day of their life. If we talk about those things which are compulsory in birthday celebrations, then besides birthday cake and gifts, one of the most essential things is birthday wishes that we share with our beloved people on birthday. 
There are many ways of wishing happy birthday, from personalized messages to organizing a surprise birthday party; you have many options. Here, you will find many unique and attractive ideas about how to wish someone a happy birthday, so take a look below. 
1. Use

 

Personalized

 

Wishes and Greeting

 

Messages:
The use of personalized wishes and greeting messages is one of the standard and meaningful ways of wishing a happy birthday. So before sending some personalized wishes, you must take some time and think about the person to whom you will want to and what they mean to you. After that, write a most attractive and heart-touching wish that reflects your feelings and relationship with that person. To create a more personalized message for them, you should make these wishes and greeting messages full of love, specific, and unique.
Check Personalized Wishes and Greeting Messages:
Writing a unique birthday message is not easy, so if you are not good with words and don't have good writing skills, then there is nothing to worry about. You can follow these below-mentioned tips to create a heartfelt greeting message or wish for a birthday person.
Write about Shared Memories:
To write a more effective birthday wish, you must mention some memorable moments or memories you shared with that person. It will show that you value their company and cherish their time together.
You can express your dreams and hopes for that person's future and tell them you want the best for them in the upcoming years.
Pay Tribute to their Qualities:
Highlight the qualities of a birthday person as it will make them feel happy and motivated for who they are. It would be best if you wrote a few things about them that are unique and appreciable.
Express your love with warm, genuine words that describe your relationship and intentions for that person.
2. Dedicate a Birthday Song:
You can also dedicate birthday songs to your loved one to make their day happier. You can also record a song for that person in your voice and send it through any social media platform. Go for that song that has meaning to your relationship, or choose one with a special message for a birthday person.
3. Send a Birthday Flower

 

Bouquet:
Nothing can compare to the beauty of flowers, as they are versatile choices for all moments of life. You can send a birthday flower bouquet to your loved one with a birthday wish note. Birthday flower bouquets support unique gestures that can brighten anyone's day. Attach a personalized birthday card with a flower bouquet with a heartfelt message.
You can choose those flowers liked by the birthday person, but if you don't know their preferences, a vibrant and cheerful bouquet of mixed flowers will be perfect for the birthday occasion.
Explore: Best Flowers Collections with Free Delivery all Over UAE
4. Send Birthday Balloon Bouquets:
A birthday seems complete with balloons, so a birthday balloon will be another excellent choice for wishing a happy birthday. You can choose a balloon bouquet in different shapes, sizes, and colors. If you want to give your balloon bouquet an impressive look, consider using helium balloons.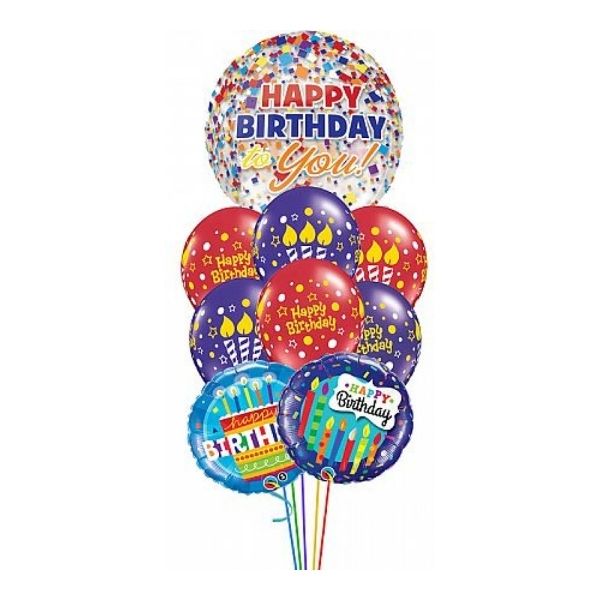 You can also use balloons containing happy birthday text to add glamour to your balloon bouquet. Decorate balloons with glitter, confetti, or custom designs, and add a birthday wish card with your message. When balloons reach the birthday person's door, they will feel amazed, adding a more festive touch to their birthday celebrations.
Check: Balloon Bouquets in Dubai (UAE)
5. Organize a

 

Surprise

 

Party with

 

Friends and

 

Family.
Everyone likes surprises, especially on the occasion of a birthday, so if you are thinking of the best ways of wishing for your loved one, you can organize a surprise birthday party with friends and family.
Arrange a surprise birthday party with that person's closest friends and family members and make their day more cherished and blessed with this gathering. You can follow these tips to organize a most surprising and compelling birthday party.
The selection of a venue for a birthday party is most important as it contains a real surprise. You have to decide whether you want to host this party at a restaurant, home, or event space. If you are not feeling confused about choosing a venue, then you can get help from close friends and family members of that person. They will guide you about the birthday person's favorite place so you can choose the best place.
Birthday Theme and Decorations:
A birthday party is completed with the best decorations, so choose a birthday theme and decorate the venue accordingly. Birthday theme can be a movie, a favorite color, or a decade-themed party. Go for the best arrangements, and if you are looking for options on a budget, then balloon decorations will help you immensely.
Birthday parties are full of entertainment, so arrange games and activities to make birthdays memorable. You can make a list of activities that will be performed during birthday celebrations because it will help you arrange this party in a more organized manner.
You must know about the guests celebrating this surprise birthday party with you. Please list the birthday person's close friends and family members and send them invitations well before the time. While inviting guests, ensure they can keep the party secret; otherwise, you will not be able to add an element of surprise to the party.
Birthday celebrations are only meaningful once captured, so you can hire a professional photographer to capture birthday memories. You can also create a photo booth to capture the special moments of this surprise party. You must record the video of the birthday person at the time of their arrival at the venue. It will be an excellent gift for them.
6. Create a

 

Creative

 

Video and

 

Share it on

 

Social

 

Media by Tagging

 

Them:
You should think differently if you are away from a close one whose birthday is just arriving. In the digital age, distance never matters, so you can create a video tribute or birthday message to wish someone a happy birthday.
Compile photos, messages, and videos from family members and friends of that person to create a more impactful video. After completing the best video, you can share it on different social media platforms and tag the birthday person, as it will make the footage reach maximum people.
You can announce some special message in this video for a birthday person, like a surprise gift, a weekend getaway, or your emotions for that person. It will add more depth to your creative video, and the birthday person will love your efforts.
Few

 

Other Creative Ideas:
In addition to the ideas mentioned above, here you will find a few more creative ways to wish a happy birthday to your loved one.
A

 

birthday book

 

is another creative way of wishing a happy birthday to someone so you can compile photos, letters, and messages from family members and friends of a birthday person into a beautifully designed birthday book. It will be the best source of wishing someone a happy birthday and the best gift from your side that will stay with that person for life. 


Hosting a birthday party virtually

 

is the best idea for those far away from their dearest one and unable to meet on their birthday. You can consider hosting a virtual party via Zoom or any other video conferencing platform and invite friends and family members to join it and celebrate. You can also send a birthday gift through a courier service that should be reached at the exact time of the virtual party. It will be a fantastic idea to make a birthday person feel loved and happy on their birthday. 


You can

 

plan a weekend getaway to surprise the birthday person

 

to their favorite destination. It will be a great idea to create long-lasting memories. You can arrange a surprise trip and book a venue to celebrate a birthday party. This weekend's celebrations will be the best surprise and give you more time together. 


To add more uniqueness to your birthday wishes, you can

 

create a decorative tree

 

or shrub with branches and hang little notes of cards on it. These cards contain different birthday wishes so the birthday person can pluck a message off the tree throughout the day. 


Personalized gifts

 

are a

 

memorable

 

way of wishing happy birthday to someone because they are the best way of showing the efforts you put into creating something special just for that person. You can buy a personalized necklace or a ring with their name if you want to gift birthday jewelry to a woman. Customized clothes like T-shirts or hoodies with custom designs or messages can also be a great gift idea. 
Check our Exclusive Collection of Gifts in Dubai (UAE) 
---